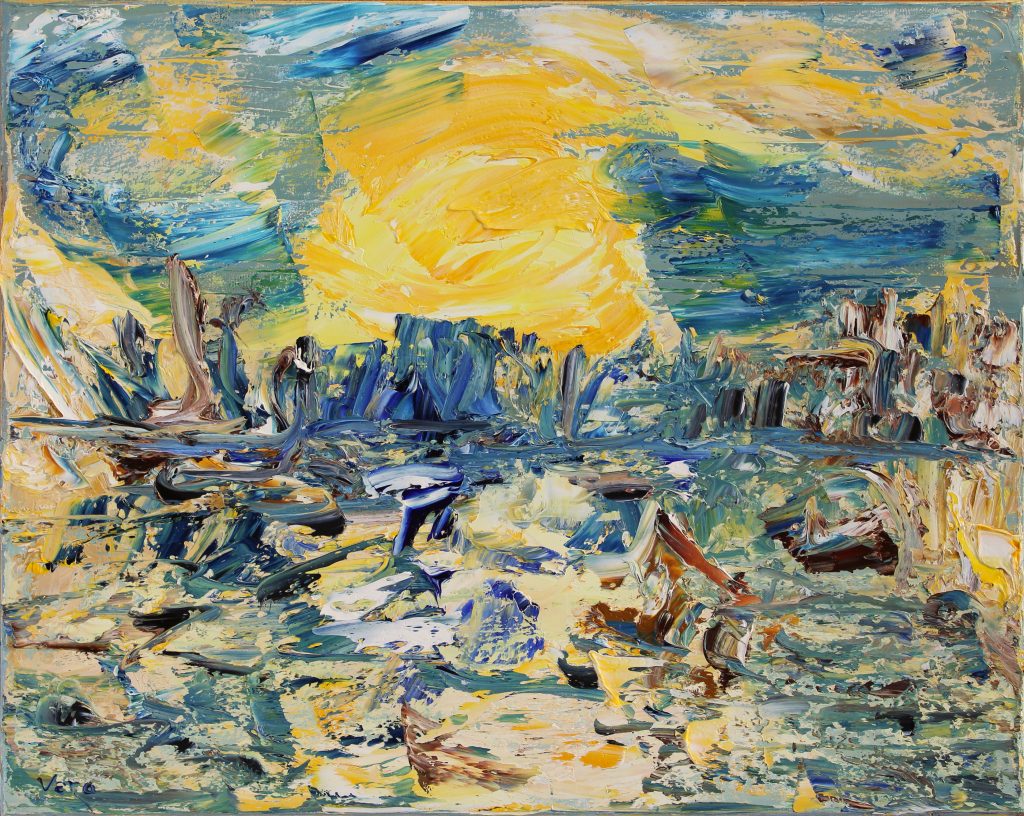 Oils on 40 x 50 cm stretched canvas (web store).
This is a rewrite of a poem I linked to yesterday in the "empires fall" vein. It's still not as tight after rewriting as this one that says much the same thing, but that came out whole. That's ideas for you… Sometimes when you hold out your hands you can catch them. Anyway, literally this is a poem about the shrine that survived the nuclear blast in Hiroshima.
"Painting Itsukushima"
Bring me your despair—but only a bit.
Resistance is a marathon, not a sprint.
Pour out what you must and I'll sweeten it.
Every day I pour myself out—sometimes by pouring in.
Every day the great works of the ages wear a little thin.
Time ravages everything. No one knows what will happen.
Except in the big picture we're all doomed, and that's alright.
Everyone dies. Empires fall. Experts imagine they know what's right.
Our brains tell us stories, day and night.
If you had seen Rome crumbling, what would you have done?
Written a friend, retired to think, sent away your only son?
Toward the end, it must have been clear to everyone.
Maybe fiddling on the roof is all there is to be done.
A fireball—the phallic missiles' burst—the arms race finally won.
Madmen have ruled the world before.
Yet we've avoided nuclear war.
The blasts thus far have been contained. But not the fear—
the blanking mind, making threats; the will to fight, flee, and follow.
It hits us all—soft skins, soft cells, soft atoms, mostly hollow.
Maybe that's how the shrine in the water not so far out
from Hiroshima survived the bomb.
Too much substance in its spirits for its matter to go wrong.