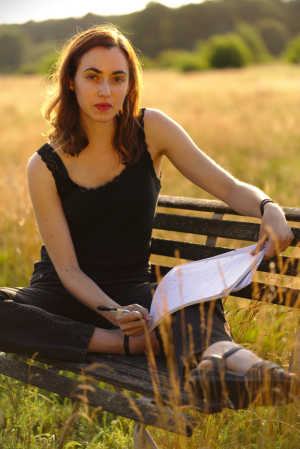 About Vera Wilde
Artist, hacker, scholar. Berliner.
Current: Hack42 artist and scientist in-residence. Recipient of glorious photoshoot gifts from Hack42 photographer Dennis van Zuijlekom. Recent interview (artist).
Previous: Harvard Kennedy/UCLA Psych postdoc. Columnist on security and gratitude. Academic CV from one past life, and an interview from it (scholar).
What this: This website showcases my oil paintings from Aug. 2014-April. 2015 and blog since May 2015. I'm making a new site soon, to simplify and showcase my all-new oeuvre on this side of the pond.
The influences that mean the most to me come from very different worlds. Poetry, especially by clarion-calling American poetesses in the shadow poet tradition like Edna St. Vincent Millay and Mary Oliver informs all my work. Political philosophy and psychology by writers like Plato, Epictetus, Shakespeare (the best psychologist in history), William James, and Ibsen also informs my work. Thus my valuation of dialogue, experiments, and the valid tension between truth-telling and peace-making that so many of Ibsen's characters struggle with.
To me, Oscar Wilde deals with this tension best—makes light of dark, speaks truth to power with kindness (or at least enough humor to not get himself killed—except that last time), and plays hard because the stakes of life are too high to take ourselves too seriously. That's why I took his name. Oscar is my daddy. Wait, that sounds wrong.
I started painting when I was very young but set it aside for large periods during school. A fellow Sierra Club volunteer and dear friend who was like a father figure to me gave me my first oil paints for my thirteenth birthday—thanks, Scott—and I'm self-taught. Oils on canvas with a palette knife are my bread and butter. Sometimes the same concept comes to me as a song, a painting, a poem, and an essay. That fluidity, to me, is part of what it means to be an artist. There are no lines to color inside when you're making it all up.
I don't currently have any other websites. You may notice other websites that appear to be mine, and are not. That's a thing that has happened. As of 13 June 2016, some of my accounts are still being obviously tampered with since multi-venue attacks I understand in this context escalated last year.
Contact
Email-to: Vera Wilde
Facebook: Vera Wilde
Twitter: @VeraWil_de
Phone: +1 857 239 0644 (via Skype/also vera.k.wilde on Skype)
Should you wish to use encryption:
As for encrypting any e-mail to me: The above address has two GPG keys on the servers, the one with key ID B4211EF1 is the one you should use. The fingerprint is F87B 7052 B262 C7D4 C648 F7C2 7911 1932 B421 1EF1.
My phone number is +49 151 5907 5245. Instead of sending SMS or calling me, you could call or message me at this number using Signal, a secure messaging app for smartphones. I don't usually answer my phone.
I have Jabber/OTR encrypted chat at verawilde@jabber.ccc.de , my fingerprint for OTR is 6F7E4210 1E4E8311 CDD3F52B 437045D3 240A0119.
And encrypted video chat app via UTox as Vera.
Some people use Tor browser for anonymity; others go farther and create dummy accounts using Tor Hidden Services to counter continuing warrantless mass surveillance. If you're at that level of needing anonymity—where metadata is bad because source protection used to exist but doesn't really now—you should reach out to someone with opsec expertise (which is not me). This stuff is hard and my endpoints are not secure.