This online gallery presents some newer work, some older, and a narrative linking them and showing my evolution as an artist since I began exhibiting and selling oil paintings in 2005. To view, buy, exhibit, or commission work, please contact me.
In late Nov. 2015, I found my way to Berlin from Amsterdam via London and Mexico City after getting the hell out of America, where I saw where things were going. Subsequently, I published two poetry books and made a new home with my love in Berlin.
My oeuvre since then displays a great deal of joy at being here, feeling like I've found home at last, travel, exploring sexuality, reflecting on (in)justice … and otherwise being lucky enough to live the life I needed to live.
Recent Favorites
These some of are our favorites of my new work that hang in our home.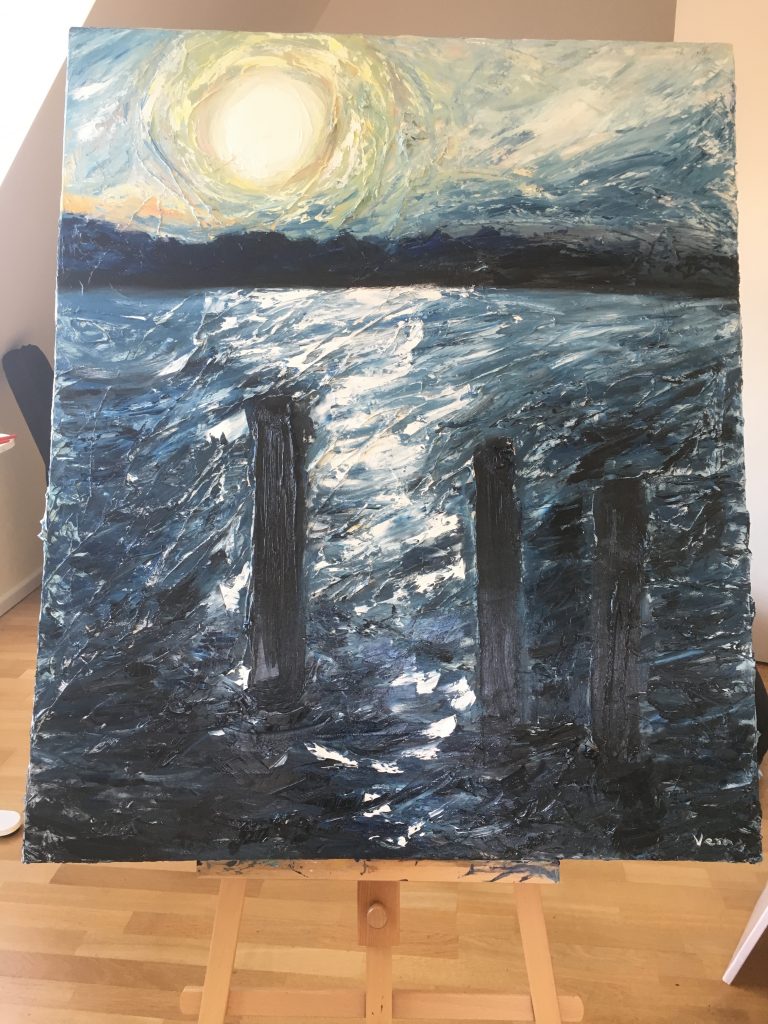 More Berlin Art, 2015-2019

"Nuremberg, 2027"
This series of poems with illustrations (including paintings, drawings ft. words, and collages ft. mixed media) envisions future war crimes trials. Blog version (poems and illustrations), book version (finalized poems).
This series of cut colored paper illustrations presents a tongue-in-check update to the Ten Commandments.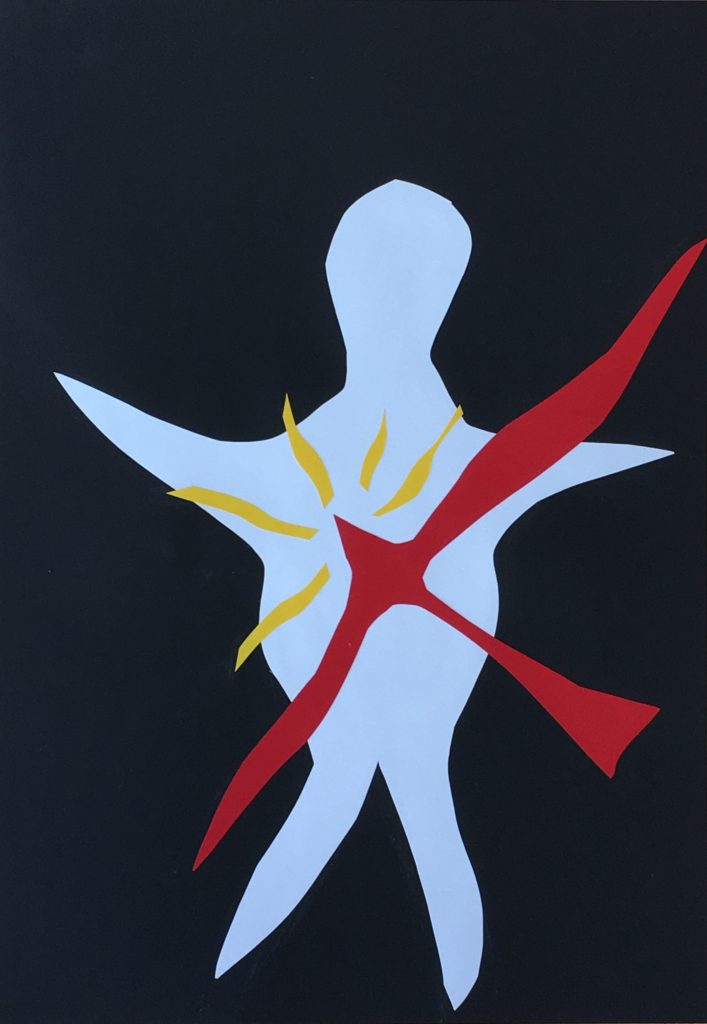 Vagabonding
Second poetry book (2018), cover art.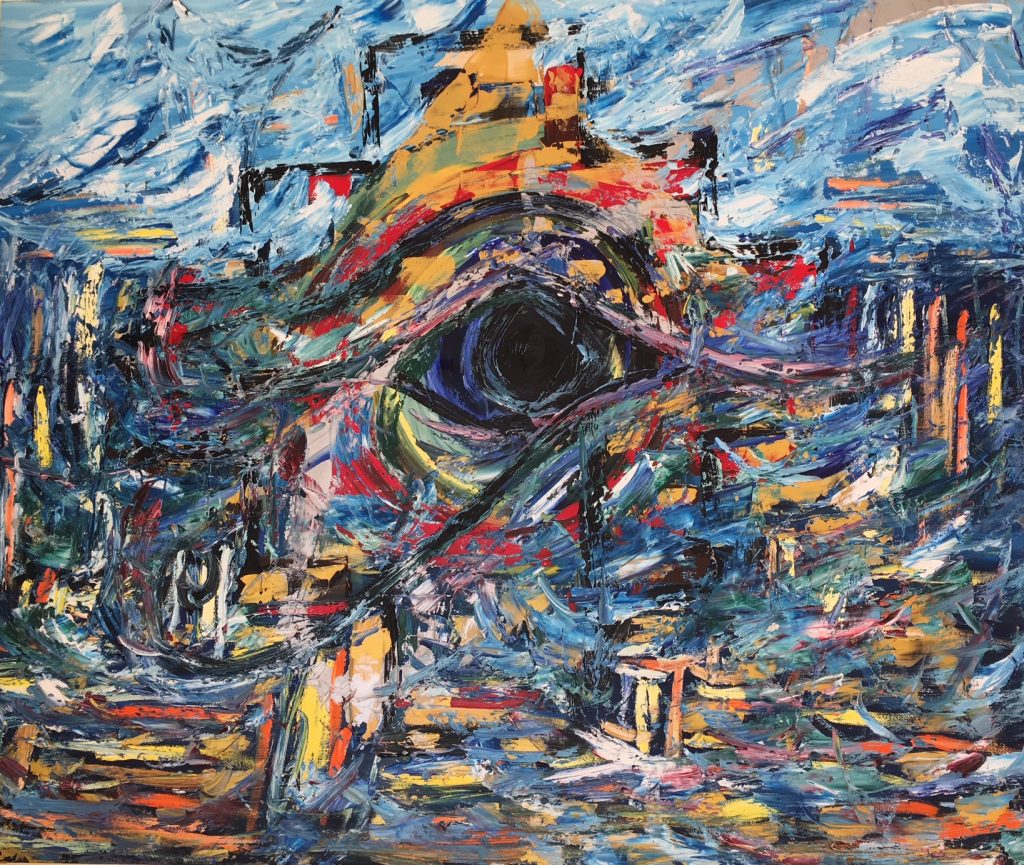 First poetry book (Push Coasts, 2015) illustrations:
These are a few of the paintings from my LA and Boston periods illustrating the free online version of my first poetry book, Push Coasts. I was editing when I painted them. This was a busy time including professional responsibilities as a postdoctoral fellow and two required cross-country moves in six months. Thus I couldn't think about exhibiting work; I couldn't slow down to paint the sides, or even take it with me. The simplest and most joyful response to the situation seemed to be to give most of it away. This was also fitting for illustrations of a book about knowing where you come from, but pushing off from the coasts of the past…
Selected other Harvard postdoc period work (2014-2015):
In Boston, I began to work in oils on canvas with a palette knife as well as my customary brushes, also continuing to experiment with different names and signatures since having changed my name months earlier. Most of this work was stolen back in America after I immigrated. That made me even happier that the latter part of the presented selection from that period was already gifted.
Selected salvaged Boston work (2015):
Some of my Boston work made it to Berlin…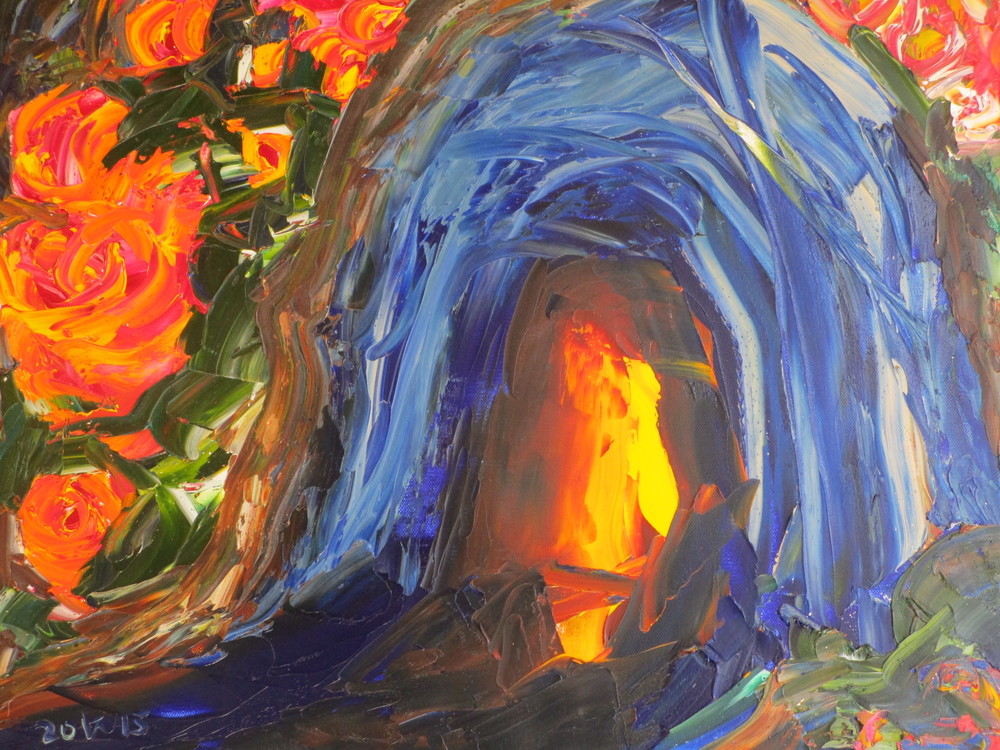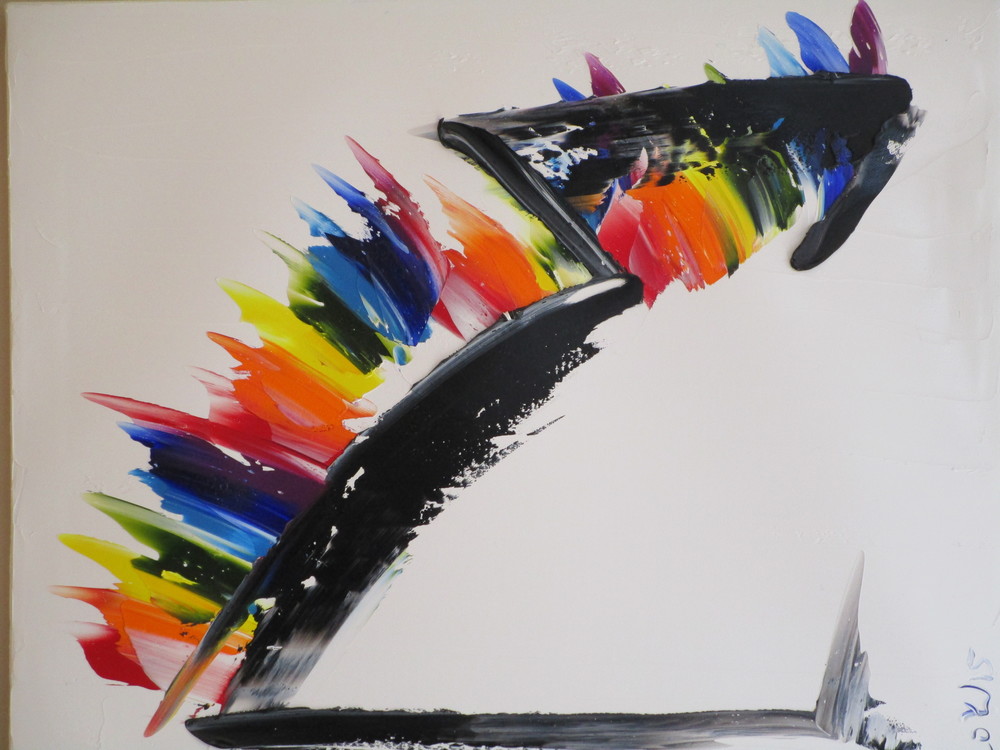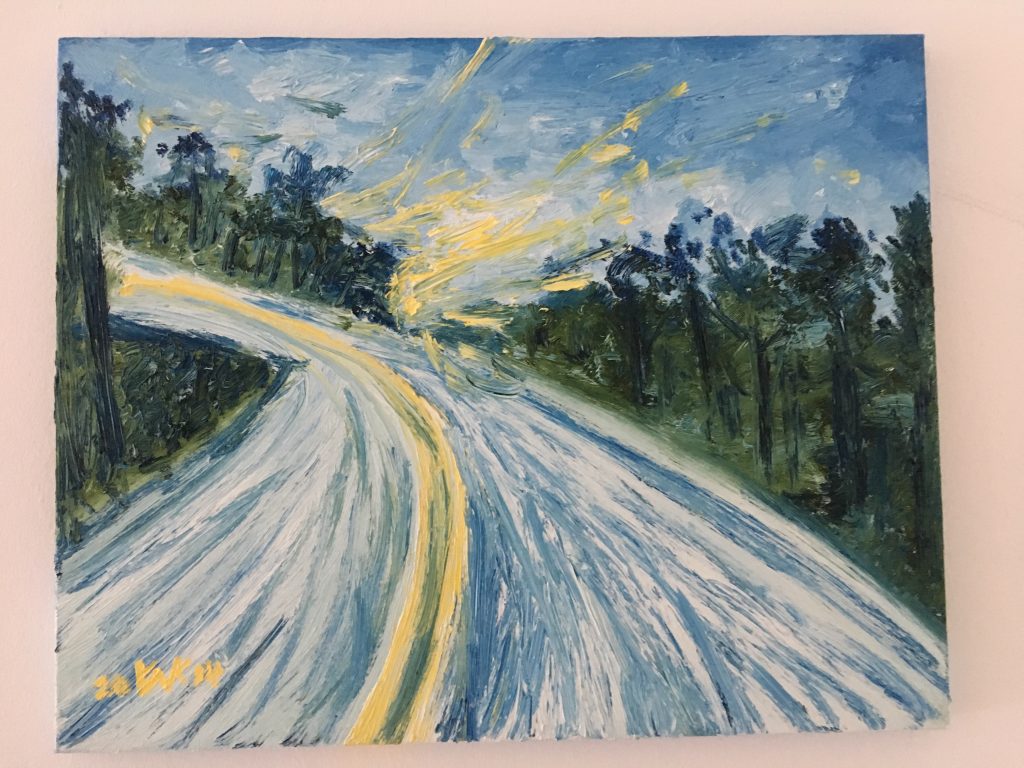 Selected other UCLA postdoc period work (2014-2015):
Some sold, and some was dear. Some illustrated poems, some songs. But almost all this work was given away in thanks when I was unexpectedly required to move cross-country again after six months (moving cross-country in the U.S. is fairly expensive).
"Psychic X-Rays," selected dissertation (2014) illustrations:
This work was all made while I was completing my National Science Foundation-sponsored dissertation research on bias in polygraphy. It was given away in gratitude to some of my wonderful mentors.
Other previous (political):
Earlier evolution:
Over the years, I've grown and changed a lot as an artist. But my basic focus on celebrating truth and beauty has remained the same. This is one of the reasons it's important to me to continue making art—this is an area where I have always been myself.
"Time to Study Flowers": 2005-2013, Virginia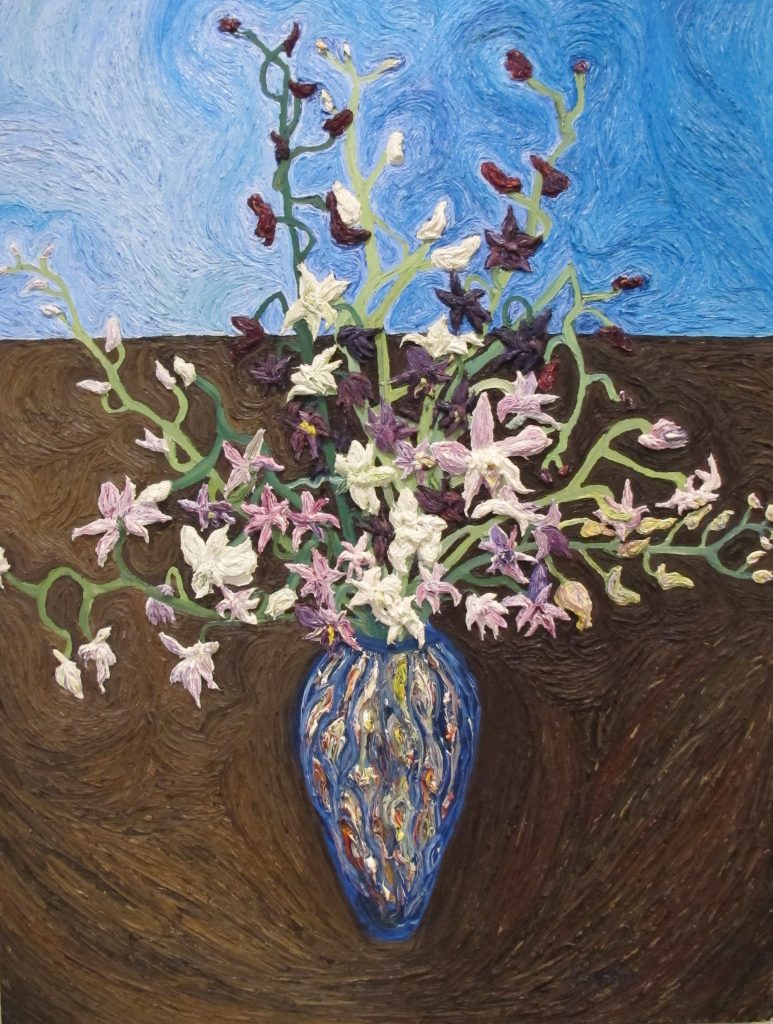 In 2005, at age 20, I obtained my B.A. from the University of Virginia, got into one of the top-ranked law schools in America, and then—I stopped. Literally, I stopped driving the car too fast around a bad curve on the way to find an apartment in Durham, in order to not slam it into a wall of rock. Figuratively, I stopped pushing myself to do something—fast—that didn't make sense, just because I didn't have a better idea what came next. I realized that my dream at the time of going into public-interest law… where the jobs I would have eventually competed for paid approximately the annual salary of a high-school English teacher (around 22k)… didn't match the reality of paying law school tuition and living expenses for myself and my disabled, then-dependent mom (i.e., going into six-figure debt).
In hindsight, that was a wise decision: The 2008 market crash would have coincided with my debt-saddled law school graduation. At the time, however, it seemed difficult to explain… The best I could come up with was that I needed "Time to Study Flowers."
My oeuvre from that earliest time of my career as an artist is now quite scattered. I exhibited work more or less constantly during this period in Charlottesville, averaging a few shows a month. Some of it sold. What remained, I eventually gave away before moving cross-country for the postdoctoral work that preceded my departure from academia and America. As a woman who has done her share of care work, and an outsider artist in most respects, it seems fitting that I seem to implicitly categorize art, along with love, as innately gift economy in some respects. So a lot of my best work was always given away in that spirit. Thus my best guest is my earlier paintings are scattered across the US.
I was really interested in making space in my life to be still and quiet, and have joy for the sake of having joy. To me that was always what art was meant to do—to celebrate truth and beauty for its own sake, in defiance of any effort to generate utility or monetary value, or to be directed for an instrumental purpose at all, and without anyone telling you what to do or how to do it. That spirit of aesthetic appreciation and freedom was expressed in a few poems I published during this period, as well as in later writing. There is also another continuity here with my later work: I have always been an outsider artist with little interest in formal training or institutional moorings, preferring instead to keep the company of other friendly outsiders and our (often dead) literary and other artistic idols / best friends.
Colorful still lives of flowers in im-ex (impressionist/expressionist) style were a favorite then. I also did some more symbolic/political work (esp. around American, Mideast, and sexual politics, much of which is now lost), landscapes, and mother-child series (often with mixed media such as stained glass around a Madonna with child figure). And I exhibited poems (mine and others') alongside my paintings whenever possible. Work from this period all had to be sold or given away when I moved cross-country from Virginia to California and then again to Massachusetts after obtaining my PhD in Jan. 2014, for my postdoctoral work.