"Archaïscher Torso Apollos"
By Rainer Maria Rilke

Wir kannten nicht sein unerhörtes Haupt,
darin die Augenäpfel reiften. Aber
sein Torso glüht noch wie ein Kandelaber,
in dem sein Schauen, nur zurückgeschraubt,
sich hält und glänzt. Sonst könnte nicht der Bug
der Brust dich blenden, und im leisen Drehen
der Lenden könnte nicht ein Lächeln gehen
zu jener Mitte, die die Zeugung trug.

Sonst stünde dieser Stein entstellt und kurz
unter der Schultern durchsichtigem Sturz
und flimmerte nicht so wie Raubtierfelle

und bräche nicht aus allen seinen Rändern
aus wie ein Stern: denn da ist keine Stelle,
die dich nicht sieht. Du mußt dein Leben ändern.

"Archaic Torso of Apollo"
Rilke/trans. Stephen Mitchell

We cannot know his legendary head
with eyes like ripening fruit. And yet his torso
is still suffused with brilliance from inside,
like a lamp, in which his gaze, now turned to low,

gleams in all its power. Otherwise
the curved breast could not dazzle you so, nor could
a smile run through the placid hips and thighs
to that dark center where procreation flared.

Otherwise this stone would seem defaced
beneath the translucent cascade of the shoulders
and would not glisten like a wild beast's fur:

would not, from all the borders of itself,
burst like a star: for here there is no place
that does not see you. You must change your life.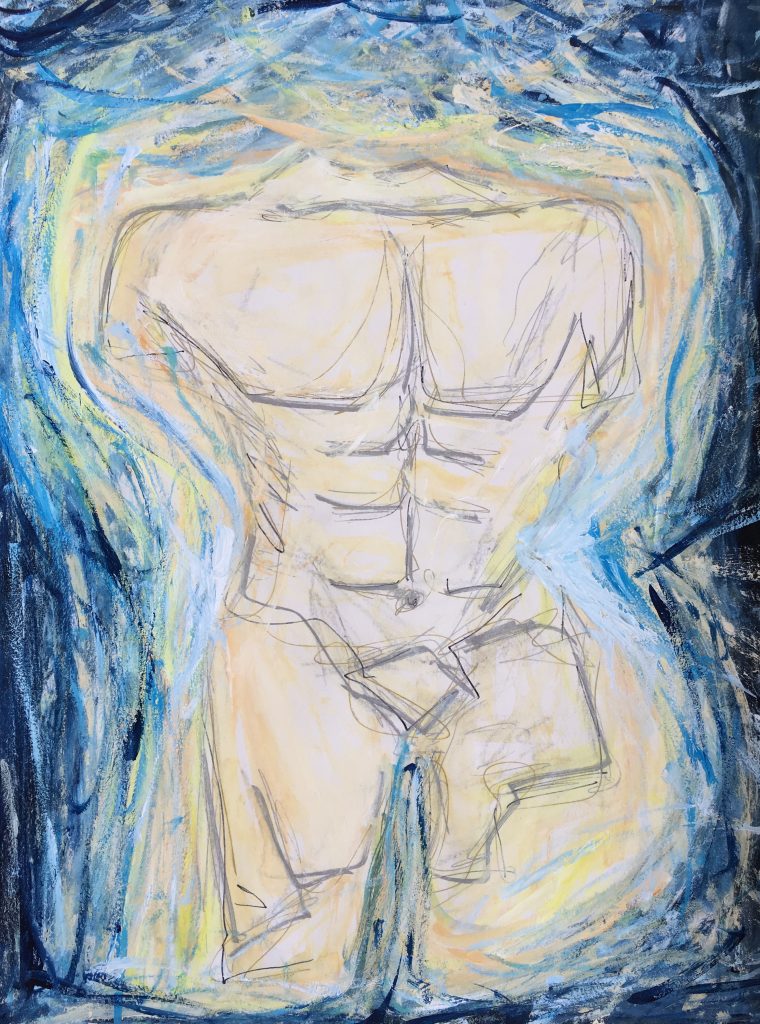 Graphite and gouache on A3 paper.
To the validation of hypergraphics everywhere, Rilke saw letter-writing as part of his poetic practice. One of his most famous books is his Letters to a Young Poet. His advice to younger artists originated in the advice he himself had gotten as a young artist from Rodin, a friendship that began when—too burned out and broke to do his own work—he landed a commission to write about the aging sculptor. Although they ultimately fell out, both men found inspiration in each other's art forms and in seeing the world around them anew. And both vacillated between total commitment to art at the expense of life, and an understanding that creating is just one way to live.