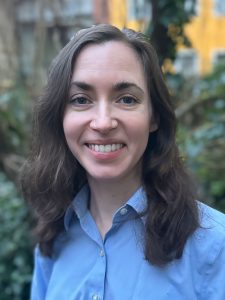 Dr. Wilde spent her graduate education at the University of Virginia studying bias and technology. Her PhD research earned a highly competitive National Science Foundation  (NSF) Doctoral Dissertation Research Improvement Grant. One of her graduate Freedom of Information Act (FOIA) requests became a successful, Knight Foundation-supported lawsuit against the Department of Defense.  She went on to an NSF postdoctoral fellowship in UCLA Psychology's prejudice and violence lab. This led to a fellowship at the Harvard Kennedy School's inequality center, pitching police departments nationwide a database project to increase fairness and transparency while Ferguson burned.
After leaving academia and the U.S. in 2015, she resettled in Berlin. Dr. Wilde continued publishing on lie detection and been quoted as a lie detection expert in Wired, McClatchy Newspapers, and elsewhere. In her spare time, she continues consulting in this first career as an outspoken voice of first principles and sound science in tech. Her voice has also long reached a popular audience, including through publication in outlets including McSweeney's Internet Tendency and The Guardian (some under a previous name and pseudonymously).
When journalist Ann-Kathrin Nezik of Die Zeit (the German New York Times) interviewed her about the AI "lie detector" iBorderCtrl in late August of 2020, Dr. Wilde was nine months pregnant with her son. Two months later, life took an unexpected turn when the pediatrician called in the middle of the night saying to wake up the baby and feed him formula, round the clock, every three hours. His weight had dropped from the 42nd percentile at birth, to below the 3rd percentile over a month later; the widely and highly recommended infant feeding mode of "exclusive breastfeeding" had meant starvation. Horrified that she had accidentally endangered her child, she dug into the science she thought she knew — and discovered it was bullshit all the way down. Cultural and historical ignorance underpinned the surprisingly recent, Western reinvention of breastfeeding in a novel form. Bad science and bad medicine built an ideological edifice around its universality, safety, and benefits. Infants and mothers pay the price for this comforting myth, sometimes with their lives.
Social media/other web presence: Twitter @vk_wilde, Wilde Truth: Research Methods for Revolution (Substack newsletter with Facebook page), Mastodon @vera_wilde@nerdculture.de, Breastfeeding Research Collection (coming). 
Contact: vera at verawil dot de, +49 151 5907 5245 (texts via Signal preferred)