Vera Wilde (1984) is an American poet and painter. She has a PhD in politics and has among other things studied racial bias and police violence. Seeing where things were headed, she decided to get the hell out of America in 2015. She has since resettled in Berlin. Although she has exhibited and sold work before, she is now finally free to pursue her passions as an artist full-time.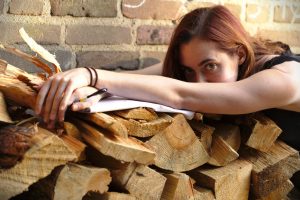 Being unable to deal with America any longer has been the best thing that ever happened to me. I feel more at home in Berlin than I have anywhere else and I look forward to helping other artists and activists feel at home here as the world gets crazier and the resistance regroups to heal and kick ass.
After a year without a studio, I moved into an apartment with a dedicated art space in early 2016. It meant the world to me to be able to paint again, because there's nothing like it. During my vagabonding, studio-free painting hiatus, I worked wherever I could: on a hostel rooftop in Mexico City, off a development researcher's porch in Brighton, in a hackerspace's attic in Holland. So it has been a privilege to return to my craft in a space full of light, air, and love — with everything I need to do what I need to do: Synthesize new inspiration from my travels into new work. And show you the best of that work now.
My new work draws inspiration from diverse influences: my new home city of Berlin, political issues of the day such as state violence against people, poetry, sculpture, and friends. "Mind Over Matter," the pièce de résistance in this selection, is inspired by Jonathan Bachman's iconic photo of Ieshia Evans protesting with Black Lives Matter against the Baton Rouge police killing of Alton Sterling.
With this showcase of the best of my new Berlin oeuvre I hope to participate – in my own humble way – in the current global resistance to resurgent fascism. As the historical chiasmus of refugee flows closes and people flee to Berlin instead of away from it, we celebrate the Global Berlin Secession from right-wing authoritarianism. Historically this phenomenon is the third Berlin Secessionist art movement: Berlin artists first led a Berlin Secession of impressionists against the art establishment, and then a New Secession of expressionism broke away to share its vision. Now artists, writers, journalists, hackers, activists, political dissidents, and human rights advocates gather here to regroup and share their visions for a better world. A world of cooperation instead of conflict, empathy instead of disregard, and vibrant colors instead of black and white.
Why there is more narrative below even though artist statements are stupid: Because I'm pitching art galleries and doing other new stuff that requires me to be able to tell a story about myself. 
Previous: Internationally recognized security theater critic, still screaming about Bayes, Harvard Kennedy/UCLA Psychology postdoctoral scholar, transparency activist, columnist on security and gratitude, Pacific Standard featured scholar, University of Virginia Politics Ph.D., high school dropout. I started painting when I was very young but set it aside for large periods during school, and I'm self-taught. Oils on canvas with a palette knife are my bread and butter. Sometimes the same concept comes to me as a song, a painting, a poem, and an essay. That fluidity, to me, is part of what it means to be an artist. 
As is apparent from my interdisciplinary path, the influences that mean the most to me come from very different worlds. Poetry, especially by clarion-calling American poetesses in the shadow poet tradition like Edna St. Vincent Millay and Mary Oliver, informs all my work. Political philosophy and psychology by writers like Plato, Epictetus, Shakespeare (the best psychologist in history), William James, and Ibsen also informs my work. To me, Oscar Wilde best deals with the tension between truth-telling and peace-making that artists, whistleblowers, and other meaning-makers have always struggled with. That's why I took his name. 
In my "first act" as a working artist, I became known between 2006 and 2013 as a flower painter in Virginia. I began regularly exhibiting original paintings in Charlottesville in 2006 under my previous name (Katelyn Sack), quickly garnering national (U.S.) and international (U.K., Japan) coverage beginning in 2008, and regularly selling my "bread and butter" of thick impasto, vibrantly colorful still life oil paintings of flowers in my own im-ex-mod style. My own specific visual language was primarily one of appreciation for natural beauty—an approach I also published poetry about during the same period.
At the same time, I explored more experimental, conceptual, scientific research- and activism-related art as well, and even published a selection of those paintings in the university library copy of my dissertation (see the second and last pages; these paintings continue to be displayed at the university today). Another example of this branching out is found in my "Baby, Be a Brain Surgeon!" painted tile series with the ABCs of neuroscience, featured on several popular science blogs around 2009. While having fun creating art relating to it (and not), I gave my work my all. As a National Science Foundation graduate and then postdoctoral researcher, I contributed (sources, research, collaboration) to several components of a national investigative series, helped make Freedom of Information Act (FOIA) history, and ended up sleeping on the floor in Massachusetts with health insurance in California as a Harvard fellow in the inequality center (bwahaha), as one does in social sciences, in America, in late-stage capitalism. The incentives so did not work for me, the public service did not pay, and trying to return to my work after having experienced significant harassment and illegal retaliation that no one seemed to care about, fleeing the U.S., and giving it a year, still scared the shit out of me. 
So it's right and it's wrong to say that in some senses, my academic career was more day job than inspiration. I cared deeply about my scientific research, transparency activism, and academic career. But like a lot of young artists, also I painted, wrote poetry, exhibited art, sold, and generally worked as an artist as much as I could, while building this largely separate career. This sort of dual-track strategy is especially common the U.S. and U.K., where state support for the arts is poor, and so only wealthy people usually train formally in the arts. We have a lot of respect as a result for self-taught artists, as opposed to the former East German/Soviet respect for intensely classically trained artists. That training is simply not normally available in the West today, to ordinary people. I never sought it for that reason—and also because it seems like academic artists in the U.S. talk to one another in small cliques, and their work is not accessible as a result. The best poets and painters of the ages have always spoken the people's language, painted for broad consumption. There's a part of me that needs that even though I don't aspire to be commercial either… One has to strike the balance, and being independent—doing my work largely on my own—has been my way of striking it. 
When I obtained my Ph.D., it was time for a second act. I changed my name so people would have to call me "Dr. Wilde" (and in homage to my favorite playwright, and with a thousand other thought and felt associations). Immediately my new postdoctoral job required me to move across the country—twice in half a year. So I have recently had to re-create my painting oeuvre entirely from scratch three times. First in California, where my job required me to move from Virginia—and I could not afford to move most of my things including my work with me, or even to pay for a storage unit. So I sold what I could and gave the rest away. Then my boss got a visiting position at Harvard, in Massachusetts, and required me alone in our lab to move with him, again across the country, after 6 months. Again I could not afford to move most of my things including my work with me. When I was harassed, threatened, and forced to resign from Harvard for appearing to have been a whistleblower, and fled the U.S. in 2015 with a backpack, I again could not afford to move most of my things including my work with me.
Having to re-create my oeuvre three times—the loss of continuity, the grief and yet freedom of the blank slate that went with these uprootings—changed me as an artist, as did the rest of these experiences. I don't feel like painting still lives of flowers so much anymore—although maybe I will if I can create my own garden here or elsewhere. The painstaking brushwork is also not as appealing as the rougher palette knife technique I began experimenting with in Boston. When I do more detailed work now, I like for it to incorporate text as well as images, to be explicitly poetic or political. The draw of creating has always been celebrating truth and beauty, and it still is. I was just ready for something new, perhaps. 
It takes both extraordinary circumstances and an extraordinary response to them, to leave one's field of long-term training and some success, to leave one's country without having a foothold in another, and to strike out as an artist in an unknown land with a new language, new norms, and no rules defining success save the ones you make for yourself. So I am in the liminal but not unenviable position of trying to work out what is next. For my distinctive visual language—no longer still lives of flowers, but what then that has both soul and broad enough appeal? For my writing projects that I would like to revise or begin again to make into more complete successful works (like my dissertation, screenplay, play, and surveillance book manuscript—all from 2014-5, all shelved for a few years now as I get on my feet as an artist in Europe)—what do I leave, and what do I remake for whom? And similarly for my public persona, as artists as self-creating animals must work to say where we are coming from in these ways, in this sort of a messy revision process, on websites and in artist statements that cannot possibly say enough and yet always end up being far too long unless the artist just scoffs and says: If you want an artist statement, go read Oscar Wilde. 
Contact
Email-to: Vera Wilde
Facebook: Vera Wilde
Twitter: @VeraWil_de
Phone: +49 151 5907 5245 (texts via Signal preferred/no voicemails)
Skype: vera.k.wilde/+1 857 239 0644 (no voicemails)
Should you wish to use encryption: 
As for encrypting any e-mail to me: The above address has two GPG keys on the servers, the one with key ID B4211EF1 is the one you should use. The fingerprint is F87B 7052 B262 C7D4 C648  F7C2 7911 1932 B421 1EF1.
Instead of sending SMS or calling me, you could message or call me using Signal, a secure messaging app for smartphones. I don't usually answer my phone or check voice messages.
I have Jabber/OTR encrypted chat at verawilde@jabber.ccc.de , my fingerprint for OTR is 6F7E4210 1E4E8311 CDD3F52B 437045D3 240A0119.
I have encrypted video chat via UTox as Vera.
Metadata exists, this stuff is hard, and my endpoints are not secure. (Neither are yours.)