Vera Wilde (1984) is an American AI ethics researcher and artist (working primarily in oil paint [link coming soon…] and poetry). 
She has a PhD in politics and has among other things studied racial bias and police violence. Seeing where things were headed, she decided to get the hell out of America in 2015. She has since resettled in Berlin.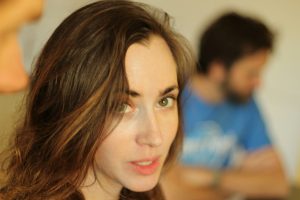 Being unable to deal with America any longer has been the best thing that ever happened to me. I feel more at home in Berlin than I have anywhere else and I look forward to helping other artists and activists feel at home here as the world gets crazier and the resistance regroups to heal and kick ass.
After a year without a studio, I moved into an apartment with a dedicated art space in early 2016. It meant the world to me to be able to paint again, because there's nothing like it. During my vagabonding, studio-free painting hiatus, I worked wherever I could: on a hostel rooftop in Mexico City, off a development researcher's porch in Brighton, in a hackerspace's attic in Holland. So it has been a privilege to return to my craft in a space full of light, air, and love — with everything I need to do what I need to do: Synthesize new inspiration from my travels into new work. And show you the best of that work now.
My new work draws inspiration from diverse influences: my new home city of Berlin, political issues of the day such as state violence against people, poetry, sculpture, and friends. "Mind Over Matter," the pièce de résistance in this selection, is inspired by Jonathan Bachman's iconic photo of Ieshia Evans protesting with Black Lives Matter against the Baton Rouge police killing of Alton Sterling.
With this showcase of the best of my new Berlin oeuvre I hope to participate – in my own humble way – in the current global resistance to resurgent fascism. As the historical chiasmus of refugee flows closes and people flee to Berlin instead of away from it, we celebrate the Global Berlin Secession from right-wing authoritarianism. Historically this phenomenon is the third Berlin Secessionist art movement: Berlin artists first led a Berlin Secession of impressionists against the art establishment, and then a New Secession of expressionism broke away to share its vision. Now artists, writers, journalists, hackers, activists, political dissidents, and human rights advocates gather here to regroup and share their visions for a better world. A world of cooperation instead of conflict, empathy instead of disregard, and vibrant colors instead of black and white.
Previous: Internationally recognized security theater critic, still screaming about Bayes, Harvard Kennedy/UCLA Psychology postdoctoral scholar, transparency activist, columnist on security and gratitude, Pacific Standard featured scholar, University of Virginia Politics Ph.D., high school dropout. 
To me, Oscar Wilde best deals with the tension between truth-telling and peace-making that artists, whistleblowers, and other meaning-makers have always struggled with. That's why I took his name. 
Contact
Infrequent email updates: Send me an email request, get an occasional group email
Email-to: vera at verawil dot de
Phone: +49 151 5907 5245 (texts via Signal, Wire, or WhatsApp preferred)
Skype: vera_3859 (by appt)
Voice calls are annoying and social media is evil.
Should you wish to use encryption: 
Read McSweeney's excellent The End of Trust: An investigation of surveillance in the digital age (2018), especially Soraya Okuda's "The Postcards We Send: Tips on Staying Vigilant in the Information Age."
As for encrypting any e-mail to me: The above address has two GPG keys on the servers; the one with key ID B4211EF1 is the one you should use. The fingerprint is F87B 7052 B262 C7D4 C648  F7C2 7911 1932 B421 1EF1. Another option that is friendlier for unfamiliar crypto users is to get an easy encrypted email address with a service that does that. (There are many.) But a lot of people now are using WhatsApp, Signal (including Signal Desktop on a computer), or Wire (also including the desktop version). End-to-end encrypted phone applications like this, instead of email encryption, are also good secure communication options. Some infosec experts prefer them because they're much easier to set up and use (than GPG/PGP/OTF/WTF/FTW). They're also free, and enable free international voice calls over WiFi as well as texting.
Instead of sending SMS or calling me, please instead message or call me using Signal, a secure messaging app for smartphones and desktops that you can also use without a phone number. I don't usually answer my phone or check voice messages.
I have Jabber/OTR encrypted chat at verawilde@jabber.ccc.de ; my fingerprint for OTR is 6F7E4210 1E4E8311 CDD3F52B 437045D3 240A0119.
I have encrypted video chat via UTox as Vera.