Vera Wilde (1984) is an American researcher and artist (paintings; poetry). 
She has researched policing, technology, and their intersections in
lie detection
for over 10 years, collaborating
with a variety of investigative journalists, researchers, activists, and others. Most recently these collaborations have led her into the ethics of AI. Her dissertation and postdoctoral work were supported by the National Science Foundation, among other granting institutions and award-givers. Her case seeking polygraph records for research under Freedom of Information law was supported by the Knight Foundation and decided by then-Circuit Judge Brett Kavanaugh in favor of governmental secrecy in the name of security, despite of his later-infamous rejection of polygraphs as unreliable. 
Dr. Wilde has a PhD in politics, and has studied racial bias and police violence, corruption and its measurement problems, and technology-mediated decision-making processes (aka AI), among other things. Seeing where things were headed, she decided to get the hell out of America in 2015. She resettled in Berlin with her beloved partner.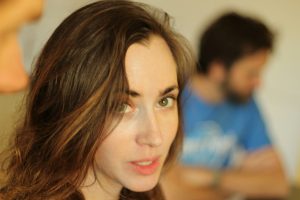 Previous: Internationally recognized security theater critic, still screaming about Bayes, Harvard Kennedy/UCLA Psychology postdoctoral scholar, transparency activist, Pacific Standard featured scholar, University of Virginia Politics Ph.D., high school dropout. 
To me, Oscar Wilde best deals with the tension between truth-telling and peace-making that artists, whistleblowers, and other meaning-makers have always struggled with. That's why I took his name. (Also so people would have to call me Dr. Wilde.) 
Contact
Email-to: vera at verawil dot de
Phone: +49 151 5907 5245 (texts via Signal, Wire, or WhatsApp preferred)
Voice calls are annoying, social media is evil, tea is nice.
Secure Contact: 
Barton Gellman's secure contact page is a good model. I also like McSweeney's excellent The End of Trust: An investigation of surveillance in the digital age (2018), especially Soraya Okuda's "The Postcards We Send: Tips on Staying Vigilant in the Information Age." Related resources: Security Without Borders, The Citizen Lab, Tactical Tech, Electronic Frontier Foundation, and the further resources list in my (increasingly dated) brief guide to combatting mass surveillance.
I prefer end-to-end encrypted apps for secure communication because they offer forward secrecy that email encryption does not. Forward secrecy matters because end-point devices can be owned, social networks compromised, and your (my) own defenses tricked by social engineering and other pressures to which ultimately no one is completely immune. Depending on your threat model, it's likely encryption might buy you time, not anonymity. 
I have Jabber/OTR encrypted chat at verawilde@jabber.ccc.de ; my fingerprint for OTR is 6F7E4210 1E4E8311 CDD3F52B 437045D3 240A0119.